Leeton United's journey with ClubMatch is a testament to the platform's ability to transform a team's fortunes. After winning consecutive premierships in 2021 and 2022, Leeton United faced a challenging start to their 2023 campaign. Losing key players led to a slow start, with the team sitting outside the top 4 halfway through the season. Recognising the need for a few missing pieces in their squad, Leeton United turned to ClubMatch to find the talent that would reignite their season. This is a story of resilience, strategic recruitment, and the profound impact that ClubMatch had on Leeton United's path to success.
The Missing Pieces:
With a strong foundation already in place, Leeton United's coach understood that a couple of key additions were needed to complete their puzzle. Recognising the potential of ClubMatch, the team joined the platform in June 2023, hoping to find the perfect players who could make an immediate impact. To their astonishment, they were presented with a multitude of options, including players already in Australia and ready to sign.
Signing the Right Players:
Within just two weeks of joining ClubMatch, Leeton United had secured the signatures of two new players. Romain Pinto, a talented French winger, and Peter Parish, an English-born right-back, joined the team. The addition of these players injected new energy and skill into the squad, providing the missing pieces that Leeton United needed. The strategic recruitment through ClubMatch proved to be a turning point in their season.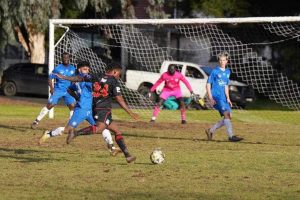 A Transformed Season:
Leeton United's season quickly transformed with the arrival of Romain Pinto and Peter Parish. The team experienced a remarkable three consecutive wins, propelling them into the top 4. The impact of the new signings was evident as Leeton United showcased an impressive run of form. With the team finding their rhythm and the new players seamlessly integrating into the squad, a third consecutive Grand Final appearance became a distinct possibility. The addition of just one or two extra players, facilitated by ClubMatch, had the power to reshape their entire season.
Conclusion:
Leeton United's success story exemplifies the potential for clubs to revitalise their seasons through ClubMatch. By leveraging the platform's resources and extensive player network, Leeton United successfully filled the gaps in their squad, ultimately turning their campaign around. The immediate impact of the new signings and the team's resurgence serve as a testament to the power of strategic recruitment facilitated by ClubMatch. As the season progresses, Leeton United, along with their new recruits Peter Parish and Romain Pinto, are set to continue their impressive run, fuelled by the opportunities that ClubMatch has provided.